Yemeni Teenager, 15, 'Burned To Death By Father In Honour Killing For Contacting Fiancé Before Wedding'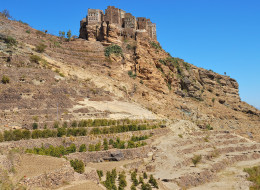 A 15-year-old girl has been burned to death by her father for allegedly getting in touch with her fiancé before their wedding day, media reports say.
According to the BBC, the Yemeni teenager's 35-year-old father was arrested on Tuesday in the remote village of Shabaa, in Taiz province.
No further details have been given, though some local news websites said the girl had been caught by her father chatting on the phone to her fiancé.
Tribal customs in some parts of Yemen prohibit contact between men and women before marriage.
SEE ALSO: Pakistani Teenagers Murdered In Honour Killing For Dancing In The Rain (PICTURES)
Leading child rights advocate Ahmed A-Qureishi tells CNN his organisation -
Seyaj
- has been asked to investigate the incident, which he describes as an honour killing.
"The government needs to deal with honour killings seriously."
Al Bawaba reports
over a quarter of young girls in Yemen are married before the age of 15.
It adds the country passed a law in February 2009 setting the minimum age of marriage at 17, but that it was repealed after conservative lawmakers declared it "un-Islamic".
Parents who live in fear of natural disasters, political instability and financial ruin look to arranged marriages as a way to save their struggling families.
Noor Basra, Noor Sheza, Pakistani Girls Murdered In Honour Killing For Dancing In The Rain (PICTURES)
Noor Basra and Noor Sheza, aged 15 and 16, died last Sunday when five masked men burst into their home in the northern Pakistan region of Gilgit and began firing. Their mother Noshehra was also killed in the attack.
Police believe the girls' stepbrother Khutore interpreted the video as "an assault on the honour of his family" and tried to "restore the family's honour" by killing them,
Pakistan's Dawn newspaper reports.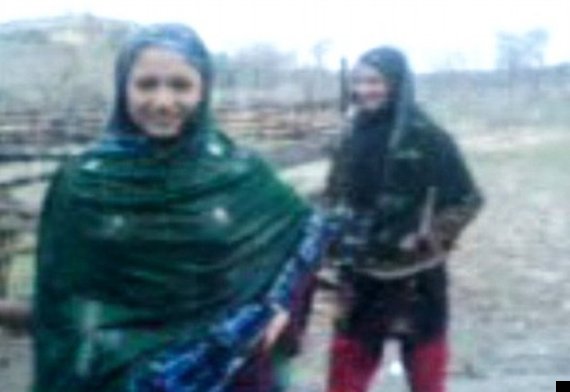 Noor Basra and Noor Sheza, aged 15 and 16 were filmed enjoying a rain shower outside their Gilgit home in Pakistan
Khutore's whereabouts are unknown but four of his friends confessed to the murders, a senior police source told the newspaper.
The footage, which shows the sisters wearing traditional shalwar kameez trouser suits and headscarves while dancing and smiling at the camera, was filmed six months ago and was circulated via mobile phones, apparently causing outrage in their conservative Pakistani hometown.
The girls' other teenage brother has also filed a case against Khutore and his four alleged accomplices, all of whom are now on the run,
The Sunday Times reports.
SEE ALSO: Indian Woman Beaten To Death By Mob For Allowing Daughter Gunjan, 20, To Wear Jeans
The figure is an increase of more than 100 in 2010.
In November a Pakistani couple admitted killing their 15-year-old daughter because she "looked at a boy".
The girl's father
told the BBC
they flung acid at her because they feared her act would bring dishonour on the family.
He said: "There was a boy who came by on a motorcycle. She (Anusha) turned to look at him twice. I told her not to do that, it's wrong."
Her mother recounted: "She said 'I didn't do it on purpose. I won't look again'. By then I had already thrown the acid. It was her destiny to die this way."
Kamlesh Dubey, Indian Woman Beaten To Death By Mob For Allowing Daughter Gunjan, 20, To Wear Jeans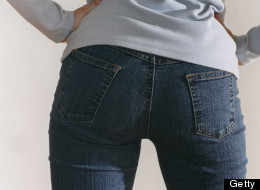 A 55-year-old woman has been beaten to death by a mob, apparently because she allowed her daughter to wear jeans.
Kamlesh Dubey was dragged from her home and repeatedly struck with a rifle butt after a row with her neighbour, who objected to daughter Gunjan wearing jeans instead of traditional sari.
Gunjan, 20, and her father Netrapal, were also injured after the brawl broke out in the city of Aligarh in Uttar Pradesh, the
IBI Times reports.
"The girl's neighbour would constantly pass comments on the way the girl dressed," Amit Pathak, senior superintendent of police in Aligarh, told
The Times
.
He added: "On this occasion she was in jeans and the woman, as usual, started passing comments. A fight ensued which grew ugly when the neighbour got other men to support her."
The neighbour, named only as Phulwati, and her aide Ravindra Singh have been arrested,
India Today reports.
Netrapal said: "My daughter is an undergraduate student and she feels comfortable in jeans. Other girls of her college also wear jeans.
"But Phulwati asked me to prevent her wearing jeans. She said her own sons stare at her because of her jeans. She also told me that other people in the area would start Eve-teasing my daughter if I didn't stop her."
Eve-teasing is a euphemism for sexual molestation in India.
Police superintendent Dayanand Mishra told the paper a manhunt is now on to track down the other people involved in Dubey's death.